by Dominick Carnicella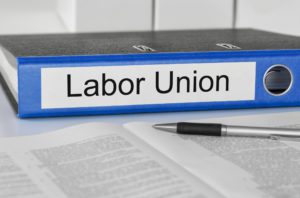 Employers with unionized employees must be aware of what can be unilaterally changed and what's required to be negotiated prior to changing unionized employees' terms and conditions of employment.
Mandatory Subjects of Bargaining. Employers should know that the employee handbook, or other work rules or policies, may not alter certain terms that an employer must bargain over with the union. These terms are called "mandatory subjects of bargaining", and generally include provisions relating to "wages, hours, and other conditions of employment". For example, the following list includes just some of the provisions that have been found to have been mandatory subjects of bargaining:
1.  application forms;
2.  attendance and absence policies;
3.  bonuses as wages;
4.  disciplinary system;
5.  discrimination;
6.  drug testing of employees;
7.  ethics codes;
8.  grievance procedures;
9.  holidays;
10.  job security;
11.  jury duty;
12.  layoffs;
13.  meals;
14.  medical insurance;
15.  off-duty conduct;
16.  outside employment;
17.  pension and retirement plans;
18.  promotions;
19.  reinstatement;
20.  savings plan;
21.  seniority;
22.  severance pay;
23.  sick leave;
24.  smoking;
25.  social events;
26.  stock plans;
27.  transfers;
28.  union activity on company property;
29.  vacation;
30.  wages and other pay;
31.  work assignments;
32.  work-related injuries;
33.  work rules.
34.  AND MORE . . .
Essentially, if a rule or policy can reasonably be expected to affect a benefit or impose a burden on an employee, it is a matter that must be raised in collective bargaining, and cannot be unilaterally altered by the employer.
Mid-term Bargaining. If either the employer or the union wishes to alter a mandatory subject of bargaining during the effective term of the collective bargaining agreement ("CBA"), neither may do so unilaterally. If both parties agree, they may enter into a memorandum of understanding ("MOU") containing the new negotiated term, which would be effective until the adoption of a new CBA. However, if it's agreed to reopen portions of the contract for negotiations, the parties must bargain as you would when there is no contract in place. This means that you may implement your proposals if the parties have reached impasse or impose a lockout, and the union can strike. For issues that may be expected to change significantly during the term of a CBA, such as health insurance contributions, the parties may wish to negotiate a "reopener" clause with respect to those specific issues, which would automatically impose a bargaining obligation upon the occurrence of certain pre-defined events, such as the passage of two years, or the employer's health care premium increase in excess of a predetermined percentage from one year to the next.
Effects Bargaining. If a particular business decision is being considered, and it's either not a mandatory subject of bargaining or it is within the scope of permissible unilateral action (as defined within a CBA's "management rights clause"), you may still have an obligation to bargain over the effect of that decision on the bargaining unit employees. Such decisions will typically include:
a.   total plant closings, liquidations, and relocations;
b.   sales of businesses and mergers;
c.   plant modernization;
d.   plant openings;
e.   changes to work schedules; and
f.   loss of work / layoffs
The "effects" over which you must bargain would be items such as:
a.   severance pay;
b.   payments into the pension fund;
c.   preferential hiring if the employer continues operating at other plants;
d.   reference letters with respect to other jobs; and
e.   health insurance, pension benefits and retraining funds.
Effects bargaining must be conducted in a meaningful manner and at a meaningful time. The National Labor Relations Board (NLRB), hearing an unfair labor practice charge arising out of an employer's refusal to bargain, will consider factors such as the risk of significant financial loss to the employer, concealment, misrepresentations, the length of time between the decision and the notice, the sufficiency of effects bargaining that had occurred, and anti-union animus.
Management Rights. Most CBAs contain a "management rights clause", the purpose of which is to leave matters not specified in the contract to be determined by the employer. Thus, if you're contemplating a change to your business operations that is not susceptible to effects bargaining and not counter to any specific language in the CBA, you'll want to check to see if it is a right that has been allotted to management in your CBA's management rights clause. For example, even though implementation of a drug testing program would ordinarily be viewed as a mandatory subject of bargaining, if a management rights clause specifies circumstances under which the employer may insist on drug testing, the employer is free to act unilaterally within the scope defined by that management rights provision.
If you have any questions or need assistance or guidance on mandatory subjects of bargaining, contract negotiations, responding to union grievances, representation for arbitration, PLRB, PERB, NLRB hearings and in Pennsylvania or Federal Courts at trial and appellate levels, please reach out to us at (724) 864-8745 or at HRhelpline@eastcoastrm.com.
Disclaimer: The information provided on this web site is for informational purposes only and not for the purpose of providing legal advice. Use of and access to this web site does not create an attorney-client relationship between East Coast Risk Management or our employment attorney and the user or browser.