By Mike Kuiros, Manager of DOT Services, East Coast Risk Management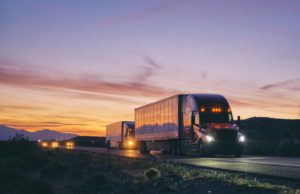 What many truckers and employers may not be aware of is a scoring tool used by roadside inspectors called the Inspection Selection System (ISS). This system's purpose is to help determine which vehicles will be selected for inspection and is most commonly used at fixed weigh station sites where the station compliance readers will identify an approaching vehicle. At that point, a bypass decision is then made based on a carrier's ISS score along with the status of various credentials.
A motor carrier's safety percentile ranking in Compliance, Safety, Accountability (CSA) is the starting point for determining their ISS score. Here's how it works: the Federal Motor Carrier Safety Administration (FMCSA) takes each motor carrier's percentile ranking and depending on the combination of scores and the fleet's performance in the various CSA safety categories (also known as BASICs — Behavior Analysis Safety Improvement Categories), fleets earn an ISS score from 0 to 100.
Not all BASICs are given the same weight. These three BASICs have the biggest impact on an ISS score:
Unsafe driving, which includes speeding, reckless driving, improper lane change, inattention and not wearing seatbelts
Hours of Service Compliance, which covers failure to meet hours of service regulations including logbooks
Crash Indicator, which considers a fleet's history of crash involvement.
The goal is to have a low ISS score. A high ISS score guarantees you will be "red-lighted" and be required to pull in to the checkpoint. The higher the score, the more likely you are to be prioritized for an inspection.
ISS ratings are split into three categories. These categories are "inspect, optional, or pass". The actual ISS score can be seen through your FMCSA Portal or if you log into the Safety Measurement System, (SMS) with a PIN. This may also be viewed through various 3rd party sites such as Central analysis Bureau or "CAB."
Recommendation ISS Inspection Value
Inspect (inspection warranted)   75-100
Optional (may be worth a look)  50-74
Pass (no inspection required)       1-49
When a truck enters into a weigh station or DOT checkpoint, the inspector will then pull the companies ISS score. This will give the inspector an indication as to whether they should complete a detailed inspection of the driver and the vehicle.
In most cases, if the score is good, the inspector is going to wave the truck through without conducting a detailed inspection. Instead, the DOT inspector will want to focus their efforts on companies with a historically bad ISS score.
It is also important to note that the FMCSA has recently started randomly manipulating ISS scores by temporarily increasing a Carrier's ISS score; particularly smaller Carrier's that don't have enough inspection data registered in the system, classified as "Insufficient data." Ultimately, the FMCSA is doing this to ensure that such carriers are more likely to be pulled in for an inspection, thus satisfying some ongoing data sufficiency problems within the FMCSA model that is currently being used.
Want to learn how to pull your ISS Score or have a general DOT or fleet safety question? 
Call our DOT helpline @ 1-833-888-0211 or email dothelpline@eastcoastrm.com.
Disclaimer: The information provided on this web site is for informational purposes only and not for the purpose of providing legal advice. Use of and access to this Web site do not create an attorney-client relationship between East Coast Risk Management or our employment law attorney and the user or browser.