by Nancy Owen, PHR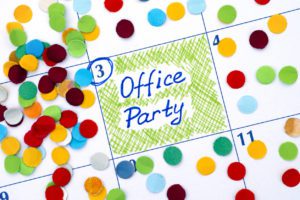 When it comes to religious holiday observances and celebrations, it's safe to say that employees aren't always able to keep their beliefs completely separate from work. It's part of who they are. As a manager or supervisor, of course you want to keep your employees comfortable and happy in the workplace, no matter what the season. But the end of the year can present special challenges.
Before you plan your next holiday party, consider the many cultures and traditions that may be represented in your workforce. Some special observances that fall in or near December include the following:
Hanukkah: For eight days each November or December, Jews light a special candleholder called a menorah. They do it to remember an ancient miracle in which one day's worth of oil burned for eight days in their temple.
Christmas: Christians around the world celebrate the birth of Jesus of Nazareth on December 25. In addition to attending church services, other observances have become traditions for many including, gift giving, special decorations and music, traditional foods, and sharing the day with family and friends.
Kwanzaa: Though not considered a religious holiday, Kwanzaa, which means "First Fruits," is based on several different ancient African harvest festivals and celebrates ideals such as family life and unity. It is celebrated in America from December 26 through January 1.
New Year: Celebrated around the world to welcome the new year and say goodbye to the old year.
Lunar New Year: Lunar New Year is observed in many countries that follow lunar calendars, including Taiwan, Vietnam, Singapore, China, Malaysia, and more. Lunar New Year can be celebrated in January, February, March, April, September, or November, depending on the lunar calendar, but February and April are the most common times.
Diwali: This Hindu festival celebrates the victory of light over darkness. The date varies from year to year, but it usually falls in October or November.
Islam will not be celebrating any major holidays in or near December this year; however, Muslims around the world observe Ramadan annually with 30 days of fasting and prayer. It will be begin on May 5 in 2019.
So when it comes to your party, consider a holiday celebration that will be welcoming for employees from any tradition or religion. Some companies have a traditional day where everyone brings in a dish that represents their culture or religious celebration and shares it with the workforce.
Another best practice would be to make participation in the holiday events voluntary. That way no one will feel pressured if they are uncomfortable.
Most organizations have some type of holiday traditions. A past Career Builder survey says that:
69 percent of employers throw a holiday party;
54 percent of employers give employees holiday bonuses;
46 percent of employers give their employees gifts.
For the 69% of companies planning a holiday party: keep in mind that 44 states have enacted liquor liability laws. The laws make it possible for a person to hold those who serve alcohol to an intoxicated or underage person responsible for any damage or injury caused by these same individuals after they leave the party. Some companies offer taxis or Uber rides for the employees. But when companies or business owners host a holiday party and serve alcohol as part of the festivities, liquor liability can be an issue. Of course, having a commercial general liability insurance policy helps financially if you are sued and it is always a best practice to consider purchasing an Employment Practices Liability Insurance (EPLI) policy.  An EPLI policy will protect a business from discrimination, sexual harassment, emotional distress, and other workplace-related issues. Reviewing all the possibilities in advance of a party is always a best practice.
What about giving a day off?
Remember Title VII of the Civil Right Act of 1964? That law states that employers can't discriminate based on religion, and must "reasonably accommodate employees' sincerely held religious practices" unless it will cause the employer an "undue hardship." That means, unless it is truly an undue hardship on the company, an employee can't be fired because their religion forbids them from working on their holy day. But that does not mean that companies have to give the whole staff off for the holidays. A best practice is to give floating holidays, so your employees can choose their own holiday time off.
And finally, according to an article from the Society for Human Resources Management (SHRM), religious accommodations often present themselves in the form of a request for time off for religious observances that do not conform to the employer's holiday schedule. As mentioned above, if allowing the employee to have the religious holiday off would cause an undue hardship for the company, the accommodation is not required. According to the Equal Employment Opportunity Commission (EEOC), "An accommodation may cause undue hardship if it is costly, compromises workplace safety, decreases workplace efficiency, infringes on the rights of other employees, or requires other employees to do more than their share of potentially hazardous or burdensome work."
Because employers may often have multiple requests off for the same religious holiday, they should accommodate such requests in a consistent and non-discriminatory fashion.
If you are an employer with questions about this or any other HR issue, let us know! We would be happy to help. Send your questions to HRHelpline@eastcoastrm.com.
Disclaimer: The information provided on this web site is for informational purposes only and not for the purpose of providing legal advice. Use of and access to this Web site do not create an attorney-client relationship between East Coast Risk Management or our employment law attorney and the user or browser.