By Laura Pokrzywa, HR Consultant, East Coast Risk Management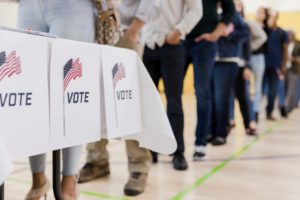 It seems fitting that a year packed with unimaginable headlines should roll to a close with a heated presidential election. Like every other aspect of our lives, voting will look a lot different this year, thanks to the pandemic. Pollsters are anticipating a record number of voters to opt for mail-in or absentee ballots this year. Those that do choose to visit their polling station on November 3 will likely find longer waits as election officials will be enforcing social distancing and cleaning protocols.
Depending on work schedules and polling station hours, some of your employees may need a few hours off so they can cast their ballots in person. Though no federal law directly requires an employer to allow an employee time off for voting, thirty-one states do have laws that address voting leave.
Some of these states require employers to pay employees for this time away from work. Others allow employers to set their own policy regarding payment for the leave time.  The amount of time required varies, as well, ranging from whatever is "reasonable" to as much as three hours of leave if the employee does not have sufficient non-work hours to vote.  New Jersey and Pennsylvania are among the 20 states, along with Washington D.C., that have no laws requiring voting leave.
Here is a quick overview of the states' requirements:
States with statutes that include PAID time off to vote:
Alaska, Arizona, California, Colorado, Hawaii, Illinois, Iowa, Kansas, Maryland, Minnesota, Missouri, Nebraska, Nevada, New Mexico, New York, Oklahoma, South Dakota, Tennessee, Texas, Utah, West Virginia, Wyoming.
States with statutes that require voting leave, but allow it to be UNPAID:
Alabama, Arkansas, Georgia, Kentucky, Massachusetts, New Hampshire, North Dakota, Ohio, Wisconsin.
States with NO statutes governing voting leave:
Connecticut, Delaware, District of Columbia, Florida, Idaho, Indiana, Louisiana, Maine, Michigan, Mississippi, Montana, New Hampshire, New Jersey, North Carolina, Oregon, Pennsylvania, Rhode Island, South Carolina, Vermont, Virginia, Washington. Instead, they leave it up to the employer to establish a policy regarding time off for voting.
In addition to addressing time needed to cast a ballot, some states require employers to allow election officials special leave to fulfill their duties on Election Day.
ABOVE AND BEYOND: Even without such legal requirements, an increasing number of employers are opting to encourage voter participation by offering their employees paid time off to visit the polls. Starbucks has gone one step further and is offering to provide a one-way Lyft ride (up to $75) for employees to visit the polls or to deliver their ballot to the post office or an official drop location. Retail giant Old Navy recently announced plans to give employees a full day of pay if they serve as a poll worker on Nov. 3, even if they are not scheduled to work on that day.
If you are an employer with questions about offering time off for voting or if you have questions about anything relating to human resources, safety, or workers' compensation, contact East Coast Risk Management by calling 724-864-8745 or emailing us at hrhelpline@eastcoastrm.com..
Disclaimer: The information provided on this web site is for informational purposes only and not for the purpose of providing legal advice. Use of and access to this Web site do not create an attorney-client relationship between East Coast Risk Management or our employment law attorney and the user or browser.